Windows that are always clean:
A dream come true!
After more than 10 years of research in our French research and development laboratory, our team of scientists has developed Smart Windows, a revolutionary new product that allows windows to remain transparent, becoming much easier to clean.

Buildings, apartment blocks, industrial buildings: Smart Windows is revolutionising the maintenance of the largest buildings all over the world. Easy to apply, Smart Windows is effective for a long time and means drastic reduction of costs and the means for window cleaning: less water, easier cleaning and lower maintenance.
In fact, with its properties that are unique worldwide, based on French technology, Smart Windows can effectively treat windows by making them instantly self-cleaning. Thanks to this product, windows become "intelligent" as the water carries away the impurities left on the surface, leaving behind dry and clean glass.
This Made in France product is the innovation that owners of large buildings and apartment blocks around the world have been waiting for to effectively protect windows from dirt and pollution while also improving their longevity.
Watch the demo in video !
Your windows become self-cleaning
With Smart Windows, a French technology, millions of square kilometers of glazing become totally self-cleaning. The liquids are sliding on the glass: the windows remain transparent. The product, colorless and invisible, thus prolongs the life of the glazing for many years.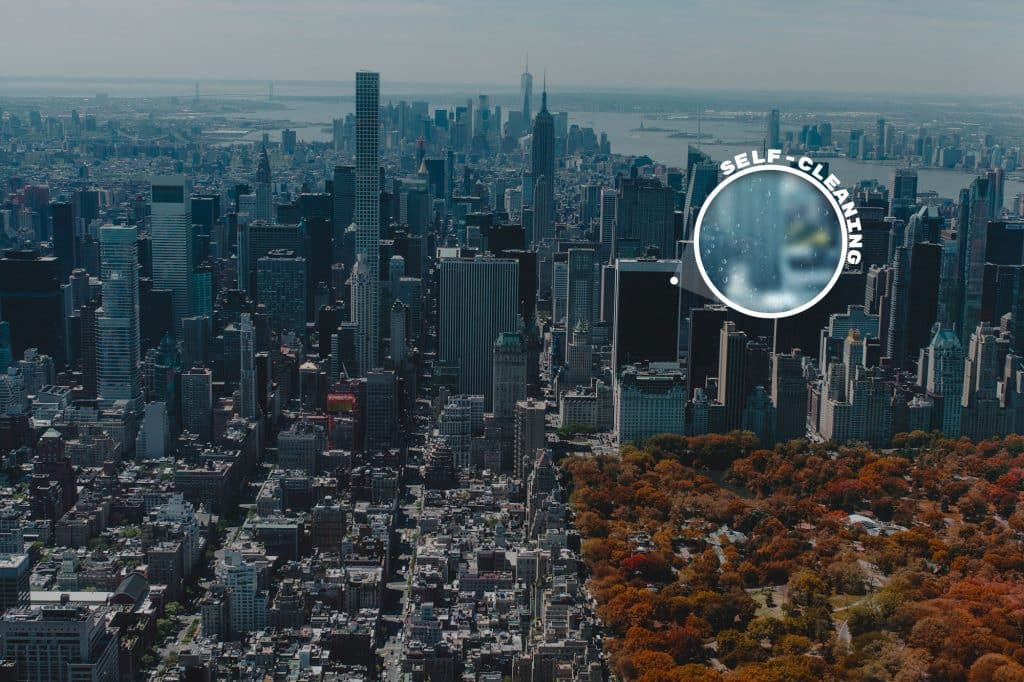 Windows upkeeping becomes easy, economical and fast
Buildings, airports, public areas: no more windows cleaning that last for hours! Simplicity of upkeep, drastic reduction of costs and human ressources: Smart Windows, thanks to its hydrophobic properties, revolutionizes the maintenance of buildings all over the world.
The treatment is effective and safe
Easy to apply, Smart Windows is totally effective after only a few hours … and for a long time. The clarity of the windows does not change. Smart Windows is a product that is unique in the world, made in France, and resulting from long years of research!